NOTE: The focus of this blog has changed exclusively to photography. This archived article was one of my most popular, and remains here for reference.
One of the things I wanted to try making in my new Instant Pot was traditional southern grits for breakfast. Making grits is not difficult under any circumstances, but there are challenges:
It takes an inordinate amount of time (and patience) to cook them well;
That's made worse when you use traditional, "old fashioned" slow-cook grits (and any other type, namely quick or instant, is sacrilegious); and,
Making them makes a mess and requires constant attention and/or perfect regulation of heat to avoid that.
I've had a small, early-generation electronic pressure cooker for years, and making grits in it was a nightmare. They'd bubble-up, much as they do with conventional cooking, and the process spattered starchy "grit juice" everywhere. Not to mention a layer of grits stuck like glue to the bottom of the unit. But in the Instant Pot, things are much easier — and far, far less messy. (In fact, not messy at all!)
What I was fully unprepared to understand is that with the Instant Pot, the unit is large enough to be able to insert a vessel within the vessel — and that that is, in fact, a common way to prepare a number of things. I found a number of recipes for grits in the Instant Pot, and every single one of them was for cheese grits and generally with enormous serving sizes. Well, cheese grits are nice, but they're not the only way to eat them, and I don't have a family of 12 to feed either.
This technique is not any different substantively than those, but I still wanted to determine the optimal time and proportions for my own use, and what follows is exactly that.
This makes two full-sized servings (or perhaps three or four very small ones, as a side dish for instance). But I'm quite certain you could double this (or more). The proportions are actually what's on the grits container, and it doesn't scale linearly, so use that as your guide.
Instant Pot Plain Grits Recipe
1 cup water
1 cup milk (ideally whole)**
1/2 cup old fashioned (slow-cook) grits*
1 Tbl butter (optional)
1 cup water (for the Instant Pot)
Select an appropriate container for cooking that fits inside your Instant Pot; I use a classic, French White, medium-sized (1.6 liter), round CorningWare casserole dish — still readily available after decades on the market. Insert your stainless steel inner pot into the unit as usual.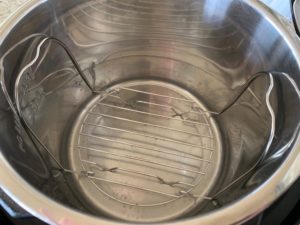 Pour the 1 cup of water into the bottom of the Instant Pot. Place your included Instant Pot trivet / rack in the bottom of the unit. Place the dish on top, and add the grits.
Pour the other water and milk into the dish, and stir.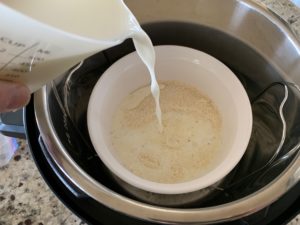 Secure the lid on your Instant Pot, make sure you move the vent to the sealed position, then pressure cook (manual) on high pressure for 15 minutes.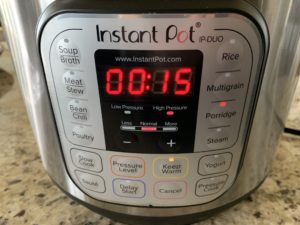 Allow the pressure to release naturally when completed. Remove the lid, stir the grits, and serve immediately in your preferred style.
In my house, we like breakfast grits savory, "southern style," with a pat of butter, freshly-ground black pepper, and a fried egg (with a runny yolk) on top, which you then mash-up and mix-in with a spoon. (No, that's not what's pictured in the featured image, but it's more often than not how we have them here.) Sweet grits aren't my thing, but enjoy them however you wish.
* This recipe is calibrated for Quaker brand old fashioned grits — not "quick" grits, and certainly not "instant" grits. They are not always particularly easy to find, especially outside of the southern United States. Here in Colorado, Walmart Supercenters happen to stock them in the grocery department alongside quick and instant. Regardless, don't bother making quick or instant in your IP; there's no point. And, if you are using coarse and/or stone-ground grits, like those available nationally from Trader Joe's, you'd best have some serious patience… You can use this recipe as-is, but you'll need to pressure cook, on high, for a minimum of 45 minutes, and I would strongly suggest one full hour followed by a natural release. I'm not a massive fan of the texture of coarse grits, but if you cook the hell out of them in your IP, they can be amazingly creamy, absolutely over-the-top full of corn flavor, and have a texture that many people will probably enjoy.
** You can make grits with water only, and of course, you can use skim or whatever. But in my view, the best flavor comes from half water, half milk.
UPDATE MARCH 23, 2019: Added additional notes in the asterisked (*) sections at the bottom of this article (above), the addition of optional butter in the ingredient list, and some clarifications to the instructions.
UPDATE AUGUST 19, 2019: Added more photos to clarify the Instant Pot steps.